Pope Benedict today made his strongest remarks on the Catholic church's clergy sexual abuse scandal, the AP reports: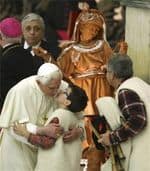 "His strong comments placed the blame for the crisis squarely on the sins of pedophile priests, repudiating the Vatican's initial response to the scandal, in which it blamed the media as well as pro-choice and pro-gay marriage advocates for mounting a campaign against the church and the pope.
Speaking en route to Portugal, Benedict said the Catholic church had always suffered from problems of its own making but that 'today we see it in a truly terrifying way.' …  'The greatest persecution of the church doesn't come from enemies on the outside but is born from the sins within the church,' the pontiff said. 'The church needs to profoundly relearn penitence, accept purification, learn forgiveness but also justice.'
Benedict was responding to journalists' questions, submitted in advance, aboard the papal plane as he flew to Portugal. His four-day visit will take him from Lisbon to the famed Fatima shrine to Portugal's second city, Porto."