Here's a clip shot by The Ocean Futures Expedition Team:
They write:
"The oil stretched as far as the eye could see and down to about 15 to 25 feet deep. Amongst the muck swims a Man 'o War jellyfish and a small fish that swims alongside for protection. The Team is encountering many floating globs of rust colored oil, dark black fresh crude and oily surfaces as they explore the coast."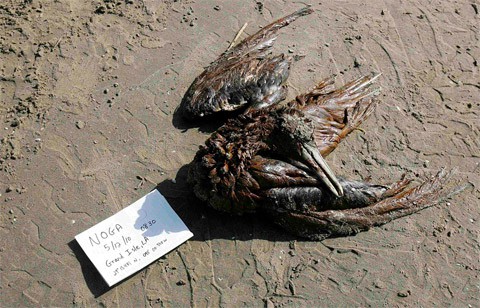 Oil has begun to saturate the marshlands of the Gulf coast: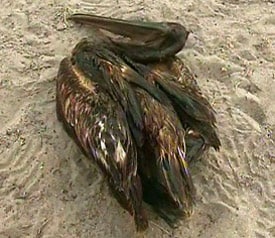 "Several pelicans were coated in oil on Barataria Bay off Louisiana, their usually brown and white feathers now jet black. Pelican eggs were glazed with rust-colored gunk, and new hatchlings and nests were also coated with crude.It is unclear if the area can even be cleaned, or if the birds can be saved. It is also unknown how much of the Gulf Coast will end up looking the same way because of a well that has spewed untold millions of gallons of oil since an offshore rig exploded more than a month ago."
Nesting areas affected.
The Big Picture has a sad look at what's happening.
The Obama administration is just now thinking they might want to wrest control of the oil slick away from BP.
"Oil giant BP faced mounting pressure on Monday to control a massive oil slick in the Gulf of Mexico after the US government threatened to take over the response to the month-old disaster.'If we find that they're not doing what they're supposed to be doing, we'll push them out of the way,' said Interior Secretary Ken Salazar."
They are going to wish they did that weeks ago.
Salazar lashed out at BP for missing 'deadline after deadline' as its latest attempt to cap the environmentally devastating leak was hit with further delays, saying the company faced an 'existential crisis'.'Do I have confidence that they know exactly what they're doing? No, not completely,' he added.His comments came as President Barack Obama's administration faced growing criticism over its handling of the crisis."
More: "Secretary of the Interior Ken Salazar said Sunday he was 'not completely' confident that BP knows what it's doing."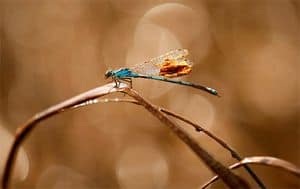 Louisiana, the first state to feel the real brunt of the oil, is grasping at what actions it can possibly take: 
"Around 65 miles of Louisiana coastline had been 'oiled,' he said, as local officials held aloft pictures of oil-coated pelicans and a porpoise.Saying that promises of more supplies frequently fell through, Mr. Jindal said he was going to send members of the Louisiana National Guard and Wildlife and Fisheries agents to monitor the oil and even to locate boom and other response supplies, which he and other officials said were available but sitting unused.Mr. Jindal also urged the Army Corps of Engineers to immediately approve a plan to build artificial barrier islands out of sand to hold back the oil, a plan widely praised by local parish officials but questioned by some experts. He said he would raise the issue with President Obama in a conference call on Monday."
Obama established a bipartisan national commission on the spill and offshore drilling, on Friday.
Watch the most recent press conference with Janet Napolitano, Bobby Jindal, and Ken Salazar, and a couple additional reports, AFTER THE JUMP…