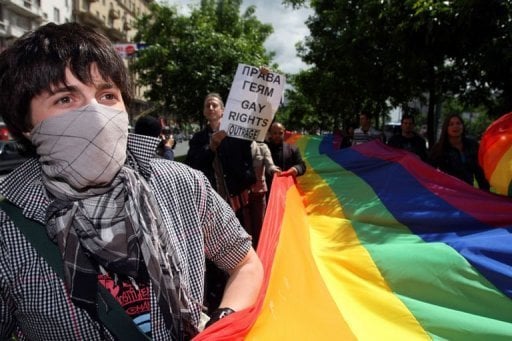 Moscow's very homophobic mayor Yury Luzhkov may have successfully banned gay pride parades for the past five straight years, but that didn't stop activists from holding not one but two brief demonstrations earlier today. No arrests were made making this the first gay rights march in years that did not end in violence, all thanks to some good strategizing by organizers.
The Associated Press reports:
About 25 activists held a short demonstration on The Arbat, a pedestrian street lined with shops and cafes that is one of Moscow's main tourist draws. They marched for about 10 minutes, holding banners and shouting slogans such as "No discrimination on the grounds of orientation." Some observers waved and laughed, and there were no signs of hostility. Police did not try to disperse the march, but when the demonstrators saw a line of uniformed officers blocking the street ahead of them, they scattered.

A few hours later in northwestern Moscow a smaller, international group including British activist Peter Tatchell unveiled a long rainbow flag and chanted "Russia without homophobes!" and "Equal rights, no compromise!"
Tatchell tells the AP: "'Our military planning was why there were no arrests. We had to organize these parades under strict secrecy, we turned away anyone we didn't know,' he said, claiming the authorities were attempting to infiltrate the organizers."
A few videos of the second march, including one in which Tatchell is interviewed by a reporter, AFTER THE JUMP.