Iceland, Eyjafjallajökull – May 1st and 2nd, 2010 from Sean Stiegemeier on Vimeo.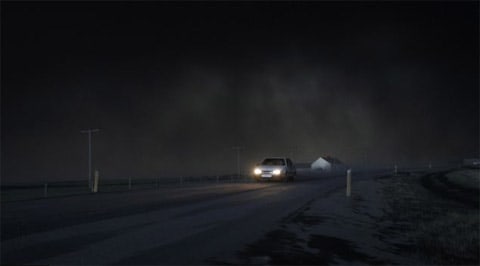 Above, a car on a rural road in Iceland in the middle of the day: 
"Huge plumes of ash from the continuing volcanic eruption at Eyjafjallajokull glacier have all-but blotted out the sun in the region. Anything that stands still for more than five minutes begins to disappear under a choking layer of ash, and everyday objects take on an eerie 'dead' look in the dark, monochromatic environment.The thick column of smoke, steam and ash belching from the volcano shows no signs of abating, and scientists offer little comfort."
Ash shut down Iceland's main airport today.
In related news, photographer Sean Stiegemeier has produced a stunning time-lapse film of the volcano.
He writes: 
"So I saw all of these mediocre pictures of that volcano in Iceland nobody can pronounce the name of, so I figured I should go and do better. But the flights to get over took forever as expected (somewhat). 4 days after leaving I finally made it, but the weather was terrible for another 4. Just before leaving it got pretty good for about a day and a half and this is what I managed to get."
Watch the stunning time-lapse video, AFTER THE JUMP…