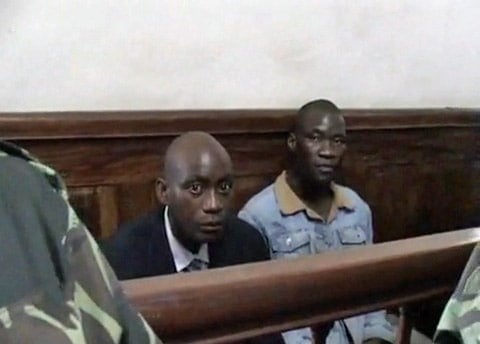 It's extremely heartening to see that Steven Monjeza and Tiwonge Chimbalanga, the gay couple imprisoned in Malawi and recently sentenced to 14 years in prison with hard labor, have defenders willing to openly speak out against the injustice and travesty of the conviction of these two young, innocent people.
The video also give us a look at the couple in court and the rowdy crowd outside it.
Watch, AFTER THE JUMP…
The sentence has been condemned by the UN: "Ban Ki-moon, the United Nations secretary general, said Monday that he would travel to Malawi this weekend where among other issues he will take up with President Bingu wa Mutharika is the 14-year jail sentence handed down to two homosexual men who held an engagement ceremony. Mr. Ban said the sentence violated human rights principles that ban both discrimination on the basis of sexual orientation, as well as the criminalization of sexual acts between consenting adults."
(via lgbt asylum news)