Defense Secretary Robert Gates grudgingly accepted plans to push forward with a repeal of "Don't Ask, Don't Tell" this week.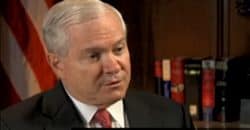 Said Gates' spokesman Geoff Morrell: "Secretary Gates continues to believe that ideally the DOD review should be completed before there is any legislation to repeal the Don't Ask Don't Tell law. With Congress having indicated that is not possible, the Secretary can accept the language in the proposed amendment."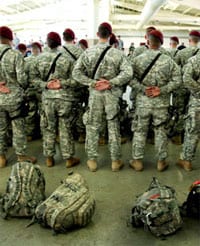 A new CNN opinion poll shows that 78% of the American public feels that gays should be allowed to serve openly in the military:
"A CNN/Opinion Research Corporation survey released Tuesday indicates that 78 percent of the public supports allowing openly gay people to serve in the military, with one in five opposed.
'Support is widespread, even among Republicans. Nearly six in ten Republicans favor allowing openly gay individuals to serve in the military,' says CNN Polling Director Keating Holland. 'There is a gender gap, with 85 percent of women and 71 percent of men favoring the change, but support remains high among both groups.' The poll's release comes just hours after Congressional Democrats reached an agreement Monday with the White House and possibly the Pentagon on a key legislative step toward repealing the 'don't ask, don't tell' policy that bars openly gay soldiers from the military."