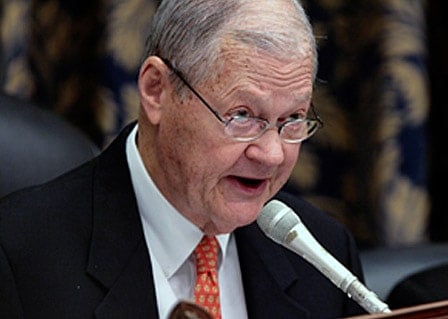 Activist group GetEQUAL and a grassroots coalition of LGBT rights groups in Missouri are targeting Rep. Ike Skelton for remarks he made last week that repealing the military's "Don't Ask, Don't Tell" policy would harm families because it would force them to discuss homosexuality with their children.
The group says in a press release that it is demanding Skelton apologize for the remarks. Today.
"GetEQUAL's national campaign targeting Rep. Skelton was launched this weekend with an email blast signed by GetEQUAL and activist Ed Reggi, a local Missouri resident and co-founder of Show Me No Hate, a Missouri grassroots coalition made up of advocates who support full equality for the LGBT community. The email demands 'a public apology from Rep. Ike Skelton for his homophobic and inaccurate comments' about the military's discriminatory "Don't Ask, Don't Tell" law and that he "end his public campaign to undercut the effort to repeal" the 17-year-old law. This weekend's email can be viewed here: www.getequal.org/missouri.php. Unless Rep Skelton publicly apologizes for his comments today, GetEQUAL and a growing number of local Missouri gay, lesbian, bisexual and transgender advocates, organizations, and veterans are prepared to launch further actions later this week."