Jury selection is underway at a U.S. District Court trial involving the Boy Scouts of America and the City of Philadelphia, the Inquirer reports: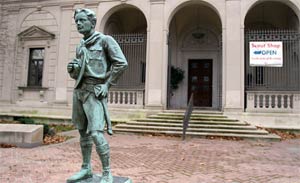 "At issue is not whether the Cradle of Liberty Council can discriminate. A landmark 5-4 U.S. Supreme Court decision in 2000 said the Boy Scouts is a 'membership organization' and can exclude gay youths and troop leaders.
But Philadelphia's City Charter says otherwise, and after years of negotiations the city decided in 2006 that the Cradle Council's refusal to explicitly reject the national scout policy violated the local rules.
So the scouts were ordered to vacate the 80-year-old headquarters they had occupied rent-free, or else pay $200,000 a year to lease the building from the Fairmount Park Commission. It is one of two offices operated by the council, which runs scout troops in the city and Delaware and Montgomery Counties.
The scouts contend the city's move is an unconstitutional 'coercion' that violates the organization's rights to free speech and equal protection. The city leases land to other institutions with membership rules, including a Catholic church, and those groups do not face eviction, the scouts say. The city says the comparison is inaccurate.
A jury will decide, and both sides are sparring over how to screen the jury pool."
Judge Ronald L. Buckwalter, who in 2009 issued an injunction banning the scouts from being evicted before the trial began, will oversee the trial.