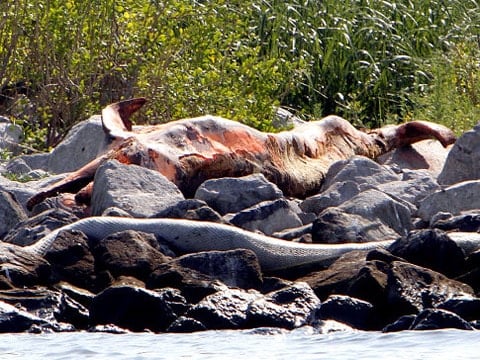 BP is actively trying to keep press away from oil-affected areas where evidence of the spill's toll on marine life can be witnessed.
A BP worker told the NY Daily News:
"When we found this dolphin (above) it was filled with oil. Oil was just pouring out of it. It was the saddest darn thing to look at…There is a lot of coverup for BP. They specifically informed us that they don't want these pictures of the dead animals. They know the ocean will wipe away most of the evidence. It's important to me that people know the truth about what's going on here. The things I've seen: They just aren't right. All the life out here is just full of oil. I'm going to show you what BP never showed the President…When you see some of the things I've seen, it would make you sick," the contractor said. "No living creature should endure that kind of suffering."
Think Progress reports: "Today, the International Bird Rescue Research Center released new figures on the number of animals that have been reported to the Unified Area Command from the U.S. Fish and Wildlife Service in the affected region. The numbers include 779 dead birds, sea turtles, or mammals (not all showed visible oil signs), and another 108 that were "visibly oiled" but still alive."