Three pilots have been suspended by British Airways for making derogatory remarks about gay passengers and flight attendants on Facebook, Pink Paper reports: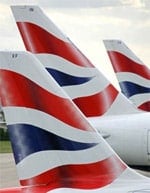 "According to The Mirror, BA 747 first officers Adam Corfield and Jonathan Harman, alongside BA Airbus A320 pilot John Lincoln, are under investigation.
The trio were one per cent of three-hundred pilots who volunteered to work as cabin crew to keep BA flights operating amid the current employee dispute.
Writing on social networking site Facebook, Corfield claimed he came close to punching a business class 'w****r' who came 'marching into the galley shouting into my face he wants a coffee'.
Lincoln contributed: 'I've done 3 trips as cc now. Totally agree, not the job for me either! B****y passengers… though so far I've avoided hitting them…'
Harman made a reference to cabin crew by saying: 'I'm gonna get 14 bum boys rostered on ur next trip.'"