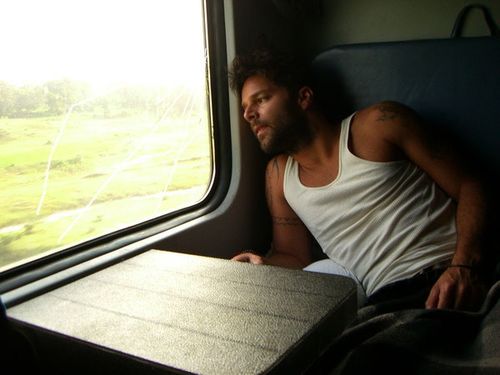 No doubt that's what Ramin Setoodeh will be asking when he finds out that Martin is headed to Broadway to play Che Guevara in the revival of the Andrew Lloyd Webber musical, opposite Argentine actress Elena Roger. Imho it's pretty perfect casting.
The NYT: "The two actors represent a mix of celebrity and theater chops, with star power being the most crucial ingredient of late for Broadway revivals — though the story and music of the legendary Argentine first lady bring their own cachet as well…The Puerto Rican-born Mr. Martin, 38, became a major pop sensation in the United States with his 1999 hit song 'Livin' la Vida Loca,' abetted by his charisma and good looks. His one previous stint on Broadway came three years earlier, as the besotted French student Marius in 'Les Misérables.'"
Setoodeh, of course, made the outrageous and homophobic remarks in Newsweek that gay actors can't convincingly play straight roles.
In related news, Sean Hayes, who is hosting the upcoming Tony Awards, says he has no further plans to discuss the Setoodeh article, which used his performance in Promises, Promises as its centerpiece, and stuck to his vow of silence in a call with reporters on Wednesday:
"…no amount of nudging could get Hayes to address the whole hubbub — Newsweek's Ramin Setoodeh said Hayes turned the play into 'unintentional camp' — during a call with reporters Wednesday morning…He stuck to that script during Wednesday's phone call in which he said he'll keep the Tonys moving along quickly so folks in the audience and at home will be entertained. He was short on specifics, though he did say he and Chenoweth will appear together during the CBS show. He was mum, though, on whether there would be any reference to the controversy."