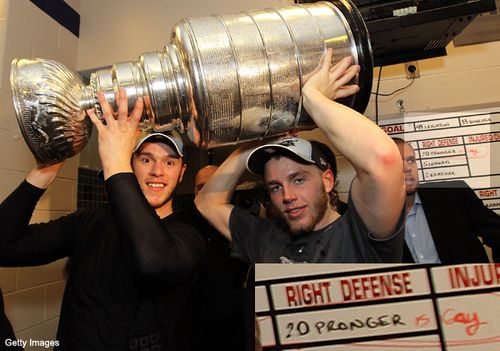 Chicago Blackhawk Brent Sopel, his wife, his four kids, and the Stanley Cup will represent the team in Chicago's Gay Pride parade this Sunday, the Sun Times reports.
Said President John McDonough, who is sending the cup from the NHL Draft in L.A.: "The power of the Cup is incomprehensible, and we recognize the importance of doing this. It's important for the city and important for the franchise…The Stanley Cup has become the biggest celebrity of all. It has its own personality and charm. We will be proud to participate in the parade. And Brent Sopel is one of the truly great guys. To have the cup part of the parade is just another great part of the celebration."
Sopel will be marching in honor of the late Brendan Burke, who died earlier this year in a car accident after breaking barriers in the hockey world by discussing his sexuality in Sports Illustrated with his father, Maple Leafs General Manager Brian Burke.
Said Sopel: "When Brendan came out, Brian stood by him, and his whole family stood by him, like every family should. We teach our kids about accepting everybody. Tolerate everybody, to understand where everyone is coming from."
Earlier this month, the Blackhawks were making news after the photo you see above (click to enlarge, and read whiteboard) revealed that Flyers player Chris Pronger was being mocked as gay in the Hawks locker room, following publication of a photo of Pronger with a skirt on in the Chicago Tribune.
The Chicago Cubs will also have a float in the parade, for the first time, and Ernie Banks will ride on it.
The walls, they are coming down…