A writer on the site Mideast Youth reports on a home raid by Iraqi police and expresses fear that a new surge of anti-gay violence has begun there: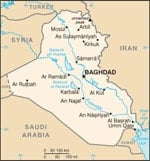 "The international community is shocked by a brutal police raid on a gay house in Iraq. The house was inhabited by two gay, one lesbian and two transvestites. The house was burned down after the raid.
The incident took place on June 16. The residents have been arrested. Gay organization in Iraq fear that they will be tortured by Ministry of Interior. Over the last two years several gay men were tortured and executed without trial.
There is a growing fear that the Iraqi government's witch hunt for gay men has begun. More than 720 gays involved in humanitarian programs since the fall of Saddam Hussein disappeared or were murdered. The chairman of Iraqi LGBT, Ali Hili, therefore calls on the UK gay Iraqi refugees not to return to Iraq: 'The danger is underestimated. Iraq is still a no-go zone for gay people.'
Iraq faced a campaign by militiad to kill gays om 2009: 16 victim was executed and left in the streets with signs saying that they're homosexuals."
Note: I was tipped off to this item by a journalist who says he has found the site to be a source of credible reports in the past.