New York City started offering, as Reuters puts it, "wedding-like" ceremonies yesterday for domestic partners wanting to dignify their second-class status with some sort of pomp and circumstance: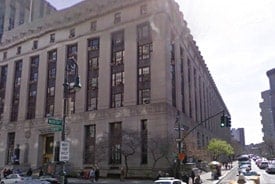 "Now the city is hoping to attract same-sex partners to its marriage bureau, which underwent a $12.3 million renovation and re-opened last year in a direct challenge to Las Vegas as a destination for people to get married. The bureau features a floral and bridal gift shop and two simple, yet elegant chapels where couples are married by a marriage clerk.
The new rules allowing the same-sex ceremonies took effect on Thursday, but only two same sex couples turned up for the ceremony, said City Clerk spokesman Michael McSweeney."
WNYC reports: "Richard Hawkins and Stanley Young, partners of nearly two years, filed for a 35-dollar domestic partnership certificate on Thursday, but like most others couples they decided not stay for a ceremony. Hawkins says he's looking forward to the day they can actually get hitched."
Added McSweeney: "We are always thinking of new ways of improving how we do our business … but the idea is to also allow domestic partners the opportunity to proclaim their commitment to one another in a public setting, where they can invite their family and friends and have the same dignity as people who have a wedding ceremony."
The same dignity? Is he joking? We'll have the same dignity when we have the same rights. Until then, it's just lame and insulting. No wonder nobody showed up.