Joe.My.God has posted some documents that show Tony Perkins' Family Research Council lobbied the government to stifle a resolution against Uganda's "kill the gays" bill.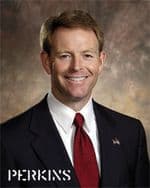 Writes Joe: "It's time for the Southern Poverty Law Center to reclassify the Family Research Council as an official hate group, not merely anti-gay as they are now listed. According to the FRC's official lobbying report for the first quarter of 2010, they paid two of their henchmen $25,000 to lobby Congress against approving a resolution denouncing Uganda's plan to execute homosexuals. The resolution passed in the Senate on April 13th, but remains languishing in the House almost four months after being referred to the Foreign Affairs Committee. Did the FRC's lobbying kill it? As we learned last week with Malawi, international pressure CAN sway even the most virulently anti-gay government."
The FRC's hatred of gays was already apparent, but, as Joe says, they should certainly be confronted with their desire for gays to die the next time they're on CNN, which, given the network's attraction to them as "go to" haters on gay issues, will likely be very soon.