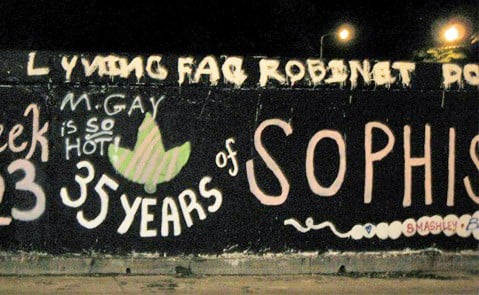 Back in April, I covered the story of Justin Robinette, the Chairman of the College Republicans at Duke University, who said he was forced from his position after fellow students found out he was gay. At the end of May, Robinette was targeted by vandals, who slurred him with anti-gay graffiti on the East Campus Bridge at Duke (see photos).
Robinette tells us that the harassment has continued.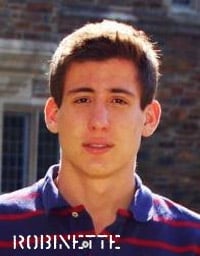 Writes Robinette:
After being impeached in April from the Duke College Republicans due to shared information with my Executive Board as to my sexual orientation, officers who resigned immediately and me directly have received continued harassment and been intimidated by current members of the Duke College Republicans. Duke University's East Camus Bridge vandalism was preceded by many instances of intimidation and harassment of former DCR officers (threatening Facebook messages from DCR Chief of Staff Rachel Provost harassing my former officers with rumors as to their sexuality and any other "personal information" they may potentially uncover, simply for supporting me. Additionally, former Vice-Chairman Matthew Leonard's dormitory nametag was vandalized with the word "faggot"). The Bridge graffiti has been followed up with anonymous death threats to both me and student Bridget Gomez (who recently created a Facebook group ). Additionally, someone I believe to be a current DCR Executive officer sent me a threatening message dated today, as well. These have been forwarded to Duke Police and they say they are investigating presently.

By members of the DCR I have been called a "faggot," "lying faggot," a supporter of the "faggot center," "ironic," "disgusting," and Duke's anonymous gossip site has included these messages: "Justin Robinette: if you ever needed a reason to hate gay people," "fags and fag-enablers need to step out of the way," "no one cares about faggots or those who cry faggot," "DCR = righteous, lying fag = Robinette." The East Campus Bridge was recently vandalized with the words "Lying Fag Robinette, DCR= Righteous, Get AIDS in Hell." The creator of a Facebook group asking Duke University to take action has received a death threat, and I have also received one, and had one forwarded to me by a Duke College Republican Executive Board officer. These death threats (attached here) told me that I "was a dead fag," told me "to go eat shit out of another homo," told a student who created a Facebook page (above) that as a "n-gger," it is not "surprising" she would "support faggots," ordered her to take down the page or she would be killed, and told me in another death threat that "it's not as easy to paint over a dead faggot." DCR officers have texted me calling me "Shit on Dicks" and sometimes abbreviated this to "S on Ds," and made references to others by this derogatory name. Outside of police investigation, no action is being taken against these individuals outside of our own complaints to the Conduct Board.
The Daily Tarheel late last week made note of the university's silence on the issue: 
"Duke University Police could not be reached for comment.
'This particular situation is very complex,' said Larry Moneta, Duke's vice president of student affairs. 'We're doing sort of everything at every level.  We're sort of coordinating a set of responses specific to the individuals and contemplating what's the best and most inventive way to turn it into the a teachable moment for the campus.'
But that teachable moment could be difficult to find during the summer when most Duke students don't even know their bridge had ever been defiled, Moneta said.
Satell said he would have expected the administration to send out a campuswide e-mail condemning the graffiti and asking for tips if anyone knew how it happened.
'We're seeing if there is any action to be taken against the university for remaining silent in response to this,' Robinette said."
President Brodhead has refused meetings with Robinette, according to the Facebook petition.