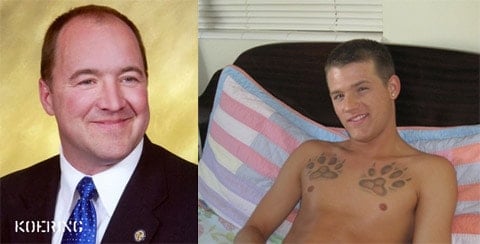 Openly gay Minnesota state senator Paul Koering was out on a date with gay porn star Brandon Wilde last weekend.
"Wilde first tweeted about his night with Koering on Sunday evening, writing, 'lol so funny!! in 45 mins im going 2 dinner with the senator :).' The senator, Koering, picked Wilde up and took him to Iven's on the Bay restaurant in Brainerd, where they dined on strip steak and beef medallions.
In an exclusive interview with The Sword this morning, Koering was unapologetic: 'I don't see anything wrong with going out with him. Do I think that being a porn star is the best thing? No. But that's his choice. I think he's a nice guy.'"
Koering, who came out in 2005, supports Minnesota's ban on same-sex marriage and voted against a gay marriage bill in 2009, told Wilde the opposite (link nsfw):
"He told me he wants to be President one day! But first, he needs to win his re-election. He said once he was re-elected he'd work on gay rights issues and NOH8 stuff, you know? He said he'd make it so gay marriage was legal in Minnesota."
Koering denies expressing that to Wilde: "I don't remember telling him any of that. I don't support gay marriage. My job is to support my constituents, and that's not something they want."
But something Koering does want is a second date, and well, maybe marriage after that.
Previously…
Gay MN Senator Koering: Same-Sex Marriage a Pointless Issue [tr]
Gay GOP Minnesota Lawmaker Says No to Gay Rights Bill [tr]