1994 IAP 16 Page Newspaper Insert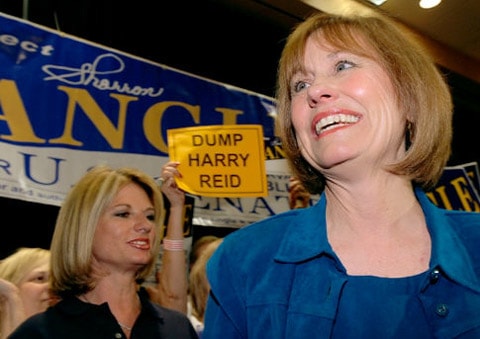 Tea Party favorite Sharron Angle's prior years as part of Nevada's 'Independent American Party' have been shrouded in mystery, according to Talking Points Memo, until now:
"The far-right third party that Nevada GOP Senate candidate Sharron Angle called home in the 1990s supported abolishing 'the debt money system' and ran a vitriolic anti-gay insert in state newspapers that portrays LGBT people — or, as Angle's party called them, 'sodomites' — as child-molesting, HIV-carrying, Hell-bound freaks, according to documents obtained by TPM."
"The ad insert, which approvingly cites an 1814 legal treatise titled 'Consequences of Sodomy: Ruin of a Nation,' is a digest of articles that refer to LGBT people alternately as 'homosexuals,' 'sodomites,' and 'brazen perverts.' The insert includes virtually every homophobic myth ever conceived.Sample headlines include: 'Homosexual Curriculum In The First Grade' … 'Flawed Science Nurtures Genetic Origin For Homosexuality' … 'No Constitutional Right To Be A Sodomite.' Here's a passage from an item headlined 'True Homosexual Character Revealed': "Homosexuals argue that they are a peaceful and gay people. Yet … Dr. Paul Cameron of the Family Research Report writes "the top six U.S. male killers were all homosexuals."
Full insert, AFTER THE JUMP…