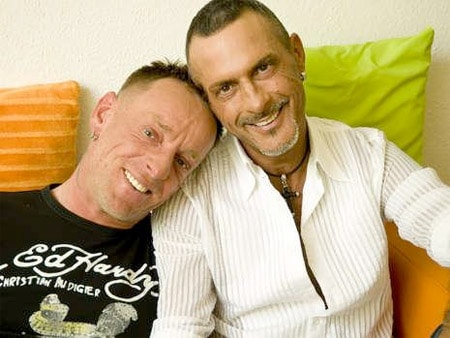 You may recall back in January I wrote about Carlos and Harald, an HIV-positive couple whose inclusion on Germany's version of Big Brother caused the exit of a fellow contestant who didn't want to live in the same house with a "diseased" couple.
Well, the couple (at least one of them) is making headlines again following a brawl on a float during Berlin's Christopher Street Day (their name for Gay Pride).
"An HIV positive Big Brother star was held by police after biting six people at a street parade in Berlin…There was one wild scene at another at this year's Christopher Street Day in the German capital, including violent fighting between musclemen on a party float.
In the midst of it all were 'biter' Harald Fassanelli (43) and his husband Carlos (45). The two make up the most extravagant gay couple on German TV…The HIV positive man is said to have violently bitten people, and – according to police – 'injured six to eight people' in the process.
A police spokeswoman told BILD: 'The man was taken down from the float by the police. He was brought in to the detention centre for identification work and then released.'
Harald Fassanelli is now under police investigation for assault causing serious bodily injury.
Harald himself told BILD yesterday: 'It was self-defence! I was insulted and beaten. I had wanted to get my plastic bag from the float. All of a sudden, someone attacked me from behind. I was being held in a headlock and couldn't breathe. That's when I bit. I'm very sorry if I've harmed people.'
He added to his apology: 'At that moment, I wasn't thinking that I could infect others.'"