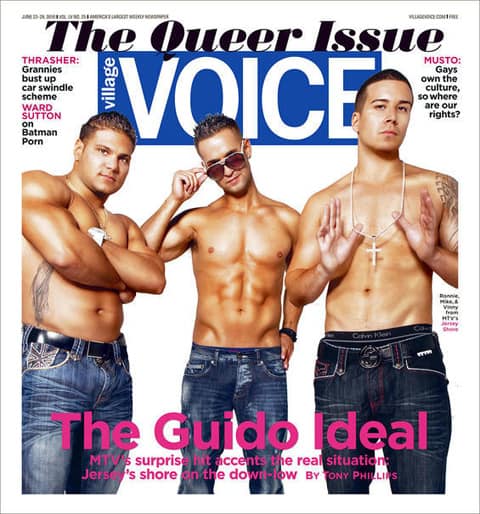 A couple of the Jersey Shore Guidos have responded to the news that they're sudden pin-up boys for Gay Pride following their appearance on the cover of the Village Voice's 'Queer Issue'.
Shrugged Vinny Guadagnino to Crushable: 
"I do like four photoshoots a week, and every one of them is the same exact thing. You do your make-up, then you take pictures, you get dressed, you take more pictures. Usually we take our shirts off, take more pictures. Whenever they send the photos, they send them. I leave it up to MTV's best judgment to send it somewhere where it won't be too outrageous. But I don't think the Village Voice Queer Issue is that big of a deal. Whatever. I just take the pictures, I trust MTV to send them wherever. Every magazine we do I think that is pretty cool…Even these pictures, they look good, you know? So what am I going to say? I'm not looking at the morality behind it. Look at the pictures."
Said Mike "The Situation" Sorrentino via Facebook: 
"As for the Village Voice SitUAtioN – it's not for me to judge somebody's sexual preference and in my opinion the SitUaTIoN looks good as hell and that is my main concern. It just so happens that The SitUaTiON has mass appeal and happily reaches a very broad audience – This is not my first cover and definitely not my last – SitUATIon NATION"
And as far as I know, Ronnie Magro, who apologized in February after footage surfaced of him using anti-gay slurs while fighting with another man on Jersey Shore, has yet to comment.