Stats: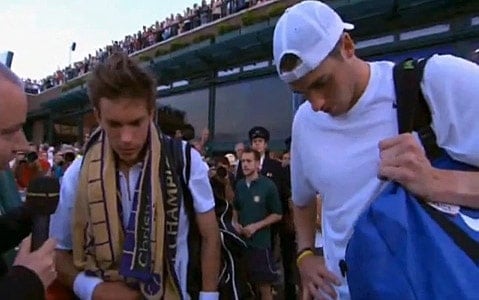 If you were following sports at all yesterday there were two stories you couldn't avoid — the U.S. advancing in the World Cup, and the epic tennis match at Wimbledon between John Isner and Nicolas Mahut which is to be continued today and has already made history:
"John Isner of Tampa, Fla., and Nicolas Mahut of France were tied at 59-59 in the fifth set at Wimbledon after exactly 10 hours of action when play was suspended because of darkness Wednesday night. It is by far the longest match in terms of games or time in the century-plus history of tennis…The 23rd-seeded Isner and the 148th-ranked Mahut, who needed to qualify to get into the tournament, shared a court for 7 hours, 6 minutes in Wednesday's fifth set alone, enough to break the full-match record of 6:33, set at the 2004 French Open.Never before in the history of Wimbledon, which first was contested in 1877, had any match — singles or doubles, men or women — lasted more than 112 games, a mark set in 1969. Isner and Mahut played more games than that in just the fifth set, and still did not determine a victor, although the American came close: He had four match points — four chances to end things by winning the next point — but Mahut saved each one."
Play will not be resumed before 10:30 am EDT on Thursday.
Watch a post-play interview with the players and check out stats, AFTER THE JUMP…