The Boy Scouts of America can discriminate against gays despite the fact that it goes against the city's anti-discrimination laws, and still lease its building for free, a jury has ruled: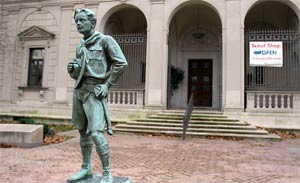 "A federal jury Wednesday decided that Philadelphia violated the Boy Scouts' First Amendment rights by using the organization's anti-gay policy as a reason to evict them from their city-owned offices near Logan Square.
'We can't be kicked out of the building or evicted and we don't have to pay any rent,' Scouts' attorney William M. McSwain said after the unanimous verdict by a jury of six women and two men.
Scouts lawyers expect U.S. District Judge Ronald Buckwalter to issue a permanent injunction that bars the Scouts' eviction because of their policy – set by the national organization – that homosexuals cannot be scouts or troop leaders.
That's not necessarily the end of the dispute, however.
The jury's answers to the 11 questions on the verdict sheet were 'inconsistent,' City Solicitor Shelley Smith said, and when verdict sheets have inconsistent answers, the potential exists that the verdict is flawed. 'We will be exploring our options.'
In an unusual address to the jury, Buckwalter said he hopes the Council and the city can reach a final negotiated solution.
The Scouts are willing to negotiate and would like to end the nearly seven-year standoff, said Jason Gosselin, the lead attorney for the scouts.
"We want to sit down with the city and see if we can resolve this" permanently, Gosselin said."