There's plenty more to the exchange between Kagan and Sessions, but here's more that came a bit later following repeated attacks at Kagan by Sessions: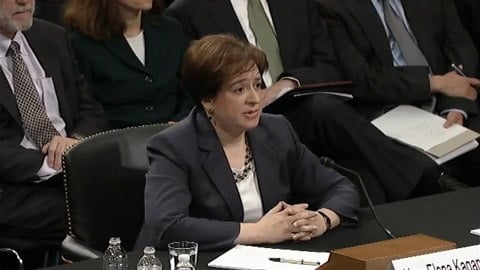 Senator Jeff Sessions, as predicted, aggressively went after Elena Kagan and her position, while Dean at Harvard, opposing military recruiters because allowing them went against the school's non-discrimination policy.
Sessions started out with Kagan and DADT.
Said Kagan: "Senator Sessions I have repeatedly said that I believe that the "Don't Ask, Don't Tell" policy is unwise and unjust. I believed it then and I believe it now. And we were trying to do two things. We were trying to make sure that military recruiters had full and complete access to our students, but we were also trying to protect our own anti-discrimination policy, and to protect the students whom the policy is supposed to protect, which in this case were our gay and lesbian students."
Later, Sessions got into the military recruiting issue.
Said Kagan: "I'm confident that the military had access to our students and students had access to our military throughout my deanship, and that's incredibly important. [The only issue was that the recruiting was done through a campus veterans' organization, rather than through the school's Office of Career Services.]  This was a balance for the law school. On the one hand, we wanted to make absolutely sure our students had access to the military at all times, but we did have a very longstanding, going back to the 1970s, antidiscrimination policy."
Sessions later accused Kagan of "punishing the military."
Watch a couple of clips, AFTER THE JUMP…