In short order, through a series of mix-ups, the toys all end up back together at the Sunnyside Day Care where they meet a bunch of new characters, all designed with Pixar's impeccable creativity and technological "wow" factor. Woody ruled Andy's room but this day care has its own less diplomatic leaders: a strawberry scented teddy bear named Lotso ("Lots-o-Huggin' Bear), his sidekick Big Baby, a gurgling creepy giant among the toys, and Ken (who falls head over heels for Barbie).
As we're averse to spoilers in reviews, it's enough to know that many eye-popping setpieces follow. The old toys have to navigate a new social hierarchy, survive playtime with slobbery toddlers, and figure out a way to right the mixed-up wrongs that landed them in the daycare to begin with.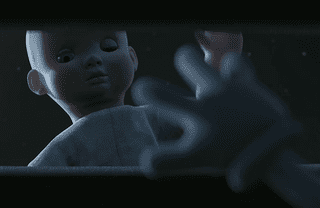 It feels uncharitable to complain about a film that will give this much joy to audiences, so you have to let the occasional corny groaner of a joke slide. But Pixar keeps upping the ante and training us to expect perfection. So, if we have one or two gripes, it's their fault. We mean these critiques in a loving grateful way. While Ken wins many laughs must he be used as the butt of jokes that reinforce rigidly socialized gender identity? Kids get enough of these spirit-dampening messages elsewhere. And, if you're going to create new characters as completely endearing as "Dolly" and "Mr Pricklepants," two toys that live not so far from Andy's house, why are they getting so little screen time?
See there!? Even the criticisms spring from love.
Toy Story 3 wants to entertain — and does it ever — but it also wants to make serious observations about mortality and the life cycle. In the process it daringly pushes some rather dark and scary moments at the audiences. There are a few instantly classic and surprisingly creepy/funny images: Mr Potato Head's parts stuck on the wobbly wrong body, Big Baby's bad eye, one very excitable monkey toy. But if you're taking your kids, nieces, nephews or godchildren, be warned that the youngest could well have nightmares. It gets very intense in a final fiery action sequence set in a garbage dump. Pixar's Up addressed death and the necessity of letting go head-on with grace and tears just last year, so it's tough not to notice that Toy Story 3 is working with the same weighty material. The increasing dominance of adult themes in their movies, may suggest that the good folks at Pixar want to move on to college with Andy. In the end, though, they're still content to push the reset button to keep childhood on one endless loop. Maybe, like Woody & Buzz, they know that they're best suited for children as surely as Ken and Barbie are made for each other. Thankfully, Pixar films give us the best of both worlds. Toy Story 3 circles back to childhood for its beautifully judged ending, but there's no mistaking the adult sized tears it wrings.