MODERN TONIC
Modern Tonic — a daily newsletter that delivers gay-approved pop culture gems (before they've been co-opted by everyone else) — presents a weekly music update here on Towleroad.

FEATURED NEW RELEASES (JUNE 29/JULY 6):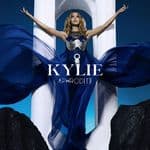 Dear Kylie: What is it about you that transforms perfectly reasonable grown men into hyperactive tween girls? Is it the euphoric Euro-disco that pours off you like glitter-flecked sweat? The playfully erotic videos as sweet as candy-covered sex? The live extravaganzas with you in full plumage and hunky dancers in next to nada? You have yet to let us down, and your 11th studio album Aphrodite (out July 6) is no exception. Executive produced by Stuart Price (woohoo, Madonna!), the Divine Miss M (sorry, Bette) makes it clear from the throbbing start of opener and single "All the Lovers" that she means business. "Dance," she coos before beats kick into overdrive, "All I wanna do is dance." And so will you. Australian electro act NERVO — who co-wrote David Guetta's international smash "When Love Takes Over" — must own stock in glo-stick manufacturing, because "Put Your Hands Up (If You Feel Love)" will light up raves the world over. And Calvin Harris joins with Scissor Sisters' Jake Shears for the jubilant party-starter "Too Much." Too much? Our Kylie's dancefloor generosity is so vast and unending she makes the mythical Aphrodite seem like a scowling, dried-up old crone. Stream entire album here.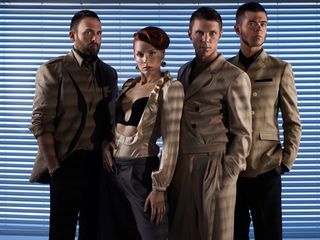 No one has ever accused Scissor Sisters of being shrinking violets. Singer Jake Shears was once a go-go dancer. Lead guitarist Del Marquis — the bookish Sister — sports fitted shirts with lavish pleating. Vocalist Ana Matronic wears her love of robots on the bionic circuitry tattooed on her shoulder. And multi-instrumentalist Babydaddy's a versatile Bear Papa on anything and everything. So if you think they've gone over the top on their filthy/gorgeous third release Night Work (out today) you need to take your mama out tonight and play bingo instead. Produced by Stuart Price (again: woohoo, Madonna!), Night Work's an iridescent discoball skyline of a record. The grooves are tight and the hooks as in your face as that Robert Mapplethorpe ass photo that graces the cover. First single "Fire With Fire" (stream the Rauhofer Reconstruction Mix below) is classic — a bold anthem that sounds like Elton John swallowed Coldplay at the rave. "Running Out" is Devo with a hyperactive libido. All 12 tunes are the perfect soundtrack to find — as Ms. Matronic says on the disco-fried "Any Which Way" — "a man that smells like cocoa butter with cash." Tired of ignorant homophobic U.S. radio programmers, the Sisters have hunkered down and done exactly what they wanted. Wouldn't it be great if all that Night Work finally pays off?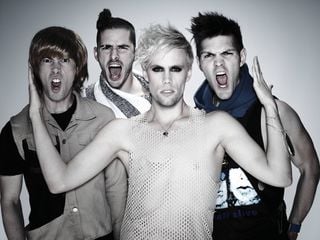 Rock music's big on overbearing personalities that shine on stage but you'd keep at arm's length in person. Axl Rose and Courtney Love spring to mind. We have no idea what Justin Tranter — the frontman for the Lady Gaga-approved NYC glam-band Semi Precious Weapons — is like when he's shopping at Gristedes, but his persona is of a petulant, narcissistic 6-foot-tall bleach-blonde bisexual minx. In others words, he's a f**king rock star and he proves it on SPW's sophomore release You Love You (out today). From the self-titled opener — where Tranter essays our favorite lyric of the year, "I can't pay my rent, but I'm f**king gorgeous" — to the redundantly perfect closer "Look at Me," You Love You's a 9-song, 33-minute hit-and-run that'll leave you gasping for breath. If you find yourself saying, "Oh no, he didn't!" while listening, chances are he did and that you love it anyway.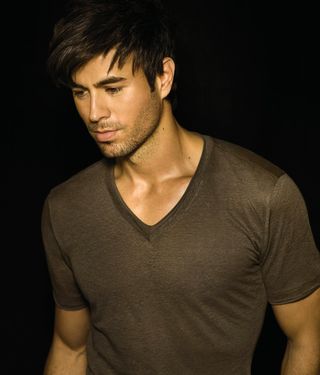 Oh, Enrique Iglesias — we feel your pain. We know what it's like to live in two worlds with distinct yet separate languages. So we applaud your ninth release Euphoria (out July 6) where you finally say "Suficiente bastante!" Enough's enough — I'll not treat my songs like bastard children divided into Spanish- and English-language releases Well, proud Papi, your instincts were right. These ten tracks are a blend of traditional and contemporary delights that serve up a quenching bilingual summer refreshment. Club-friendly bangers like "Dirty Dancer" with Usher rub slinky shoulders with breezy Latin-flecked canciones such as "Cuando Me Enamoro" featuring Juan Luis Guerra. Pussycat Doll Nicole Scherzinger provides counterpoint to current single "Heartbeat." And "No Me Digas Que No" gets two workouts — a bouncy take with reggaeton duo Wisin & Yandel and a Tejano-influenced closing version. All-in-all, Euphoria is a hard-sell advert for a still-controversial subject in the U.S.: bi-lingual harmony. Arizona, we're talking to you.
Released overseas last November, 80's hit-maker Howard Jones gets back to the insidiously catchy pop that made his name on Ordinary Heroes (out today), with one difference — the synths have been replaced by a string quartet on all ten tunes.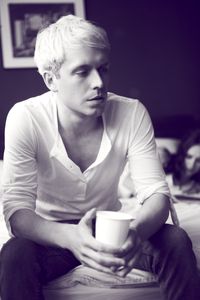 Say what you will about Kanye West, he knows talent. The U.K.'s electro-pop Mr. Hudson releases Straight No Chaser digitally today on Kanye's G.O.O.D. Music/Mercury imprint, with two collaborations from Mr. West, "Supernova" and "Anyone but Him."
 The Canadian quintet Wolf Parade has no shortage of side projects — Sunset Rubdown and Handsome Furs are merely two of seven! — so it's nice they found time for their day job on EXPO 86 (out today), their third album of maniacally catchy indie rock.
 
Her "Milkshake" may have soured over the last few years, but Kelis returns to action with Flesh Tone (out July 6), a 9-track, club-friendly collection featuring her U.K. hit "Acapella" co-written and produced by French dance maestro David Guetta.
 
Also released today:  Indigo Girls — Staring Down the Brilliant Dream; The-Dream — Love King; Judy Collins — Paradise; 3Oh!3 — Streets of Gold; Katzenjammer — Le Pop; Hey Marseilles — To Travels & Trunks
 
Out July 6:  How to Destroy Angels — How to Destroy Angels; Big Boi — Sir Lucious Left Foot…The Son of Chico Dusty; Ed Kowalczyk — Alive; The Cat Empire — Cinema

MUSIC VIDEOS:

Jeffree Star — "Beauty Killer" (audio NSFW)
This vicious little funk number features Star in a multitude of drag guises and, perhaps, the bravest costume of all: naked. RuPaul's Drag Race — America's Next Drag Superstar is here.
Graffiti6 — "Annie You Save Me"
This duo is U.K. songwriter Jamie Scott — of the killer cheekbones and pale blue eyes — and producer Tommy D — who knows Kanye and had something to do with Right Said Fred. The video's a performance clip with a shirtless boxer and did we mention Scott's eyes? Mesmerizing.

The Pipettes — "Call Me"
Last time they wanted to be the Supremes; now they want to be Bananarama, so the high-drama camp has given way to bold graphics, multi-image silhouettes of the duo and a cruel summer waiting for that man to call.

Human Life — "In It Together"
Teenager finds mysterious symbol on piece of paper and wanders the city to see what it means. Turns out it's a flyer for the latest underground club in this L.A. electro trio's tribal clip.