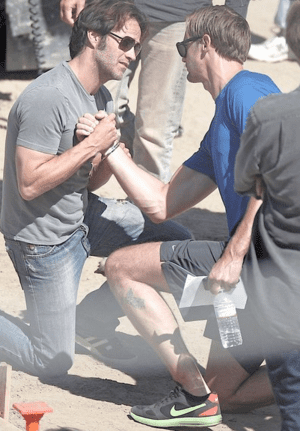 True Blood's Alexander Skarsgardand Stephen Moyer link arms.

Knoxville lesbian marries her partner in DC. DMV issues her a new license with her partner's last name but when an employee realizes her spouse is a woman, they ask for it back shouting, "You've got to give me the license back, we don't recognize same sex marriage."

Prince Harry throws out the first pitch at a Mets game while in NYC.

American Apparel's "Dress Code Manual" – complete with pictures!

200 pro-gay rights activists march in Bulgaria despite the endless criticism from the powerful Christian Orthodox Church in that country.

Baseball legend Ernie Banks will be perched on top of the Chicago Cubs's float during that city's Gay Pride parade tomorrow.

Chicago's Cyon Flare on gay Pride fatigue: "I think that we'll always have many age groups that suffer from pride
parade fatigue, at some point in their lives. The key is to enjoy what
you can [about Gay Pride celebrations], what you feel comfortable with,
and to remain visible to the community. We need you 40-somethings…the power of your presence
makes a difference."

Lackluster fashion line from Madonna and her daughter revealed.

OK Go band member in a staring contest with a muppet.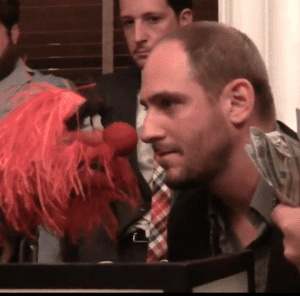 Should Lavender Magazine have outed anti-gay pastor Tom Brock this past week? Minneapolis Star-Tribune: "Critics pointed out that the magazine did not have a direct quote from
Brock saying that he had engaged in homosexual acts. The article
implied that was the case by quoting him as saying that while on a
preaching mission to Slovakia he 'fell into temptation,' but did not
explain what that meant."

If you look up in the sky tonight and see a red moon, don't worry. The added color is all thanks to Iceland's Eyjafjallajokull volcano.

Judy Shepard
on her job as one of the grand marshals for NYC's Pride parade: "I'm looking forward to the people, I don't do many pride events so this
is very exciting for me. I hope it's not too hot, and not raining."

Britney Spears and K-Fed back together reunite…for their child's graduation from pre-school.