Missed this all week but it finally caught my eye yesterday. Obama is apparently siding with the International Whaling Commission and wants to lift a 24-year ban on commercial whaling: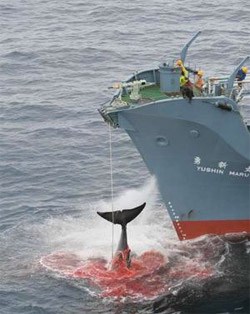 "Several environmental groups have joined forces to pressure Obama to withdraw his support for the deal before the whaling commission votes June 20 in Morocco on whether to lift the ban that was championed by President Reagan.
The groups have run ads in major newspapers highlighting Obama's campaign promise in 2008 to 'strengthen the moratorium on commercial whaling,' adding that 'allowing Japan to continue commercial whaling is unacceptable.'
'We ask you to honor your promise, stop the sellout, and save the whales,' the ad reads."
Pierce Brosnan writes in the Huffington Post:
"The proposal not only rewards Japan, Iceland, and Norway for flouting international law, but also gives these three nations 'a license to kill' whales commercially. The group's final proposal, which was released on April 22nd (Earth Day!), and which will be voted on this June, is as unwise as it is out of the American mainstream.
The International Whaling Commission (IWC) is an eighty-eight nation body charged with conservation of our planet's whales. In 1986, after whale populations were plundered to near extinction, the IWC declared a ban on commercial whaling. It remains one of the 20th century's most iconic conservation victories.
However, since the ban was enacted, more than 30,000 whales have been killed — most in an international whale sanctuary around Antarctica. Why? The Government of Japan claims it kills whales exclusively for research purposes. It's an outrageous assertion rejected by the scientific community and undermined by the fact that Japan hunts whales on factory ships and sells whale meat commercially. Japan is now rumored to be seeking a new, state-of-the-art $100 million whaling vessel."