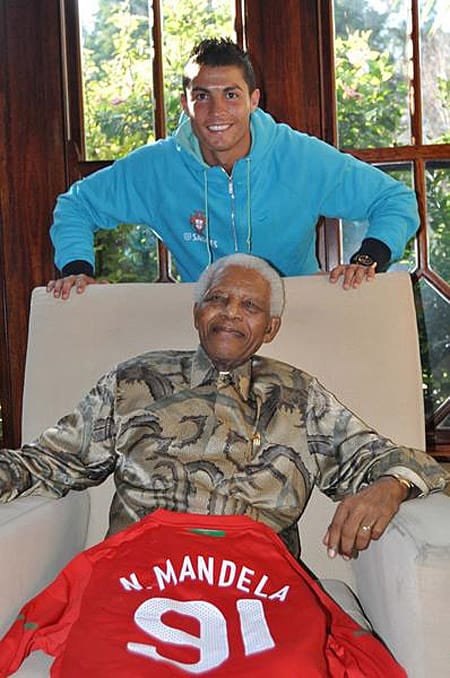 Portuguese team captain Cristiano Ronaldo met Nelson Mandela at Mandela's residence in Johannesburg today on the eve of the World Cup there.
Although 91-year-old Mandela is frail, he will be attending the World Cup opening ceremonies on Friday:
"Nkosi Mandela said his grandfather would be on hand to greet the crowd at the Soccer City Stadium, but that he wouldn't stay for the entirety of the opening game between South Africa and Mexico.
He told a press conference: "The current discussion is that we afford him time to come in whether it is ten minutes or 15 minutes to walk around the stadium and wave at the crowd.
'But I think to have him sit there an entire 90 minutes of soccer would really impact his state of health because it is winter after all, so we have to guard against that. As South Africans we wish him to live for many more years to come.'
The 91-year-old played a pivotal role in bringing the World Cup to South Africa but has made limited public appearances recently. However, he did meet the South Africa squad last week."