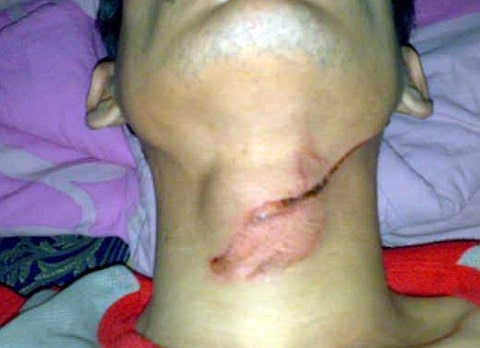 More on the burning of the gay safe house in Iraq I posted about yesterday, from UK Gay News and Iraqi LGBT:
"Last week, twelve police officers are reported to have burst into the safe house, and then violently beat up, and blindfolded the six occupants sheltering there before bundling them off in three vans.
According to a source who witnessed the raid, the police also confiscated computer equipment before burning down the house, the London group said in a statement.
According to reports reaching London, one of the arrested people has turned up in hospital (above – how the injury was inflicted is not known). However, nothing is known about the whereabouts of the other five individuals, which include two gay men, one lesbian and two transgender people.
It is feared they may have been taken to the Interior Ministry in Baghdad, where, it is reported, many gay people have been tortured and executed in the last two years…
…The house which was raided on last week had been established in January this year.
With the arrests and the seizure of computers last week, activists fear that the government will step up efforts to round up more of the country's LGBT population.
'The UK media and politicians have been too quiet for too long about the violence LGBT people in Iraq,' said Ali Hili, leader of Iraqi LGBT.
'The militia and the powers that be know they can get away with it while that silence continues.  It really is time for the Iraqi government to act on this and stop playing the role of guilty bystanders, while our brothers and sisters are murdered in silence. Currently the UK Border Agency is deporting many Iraqis, some who left the country in fear of their lives after death threats from gangsters and religious militia."
The burned house, below.