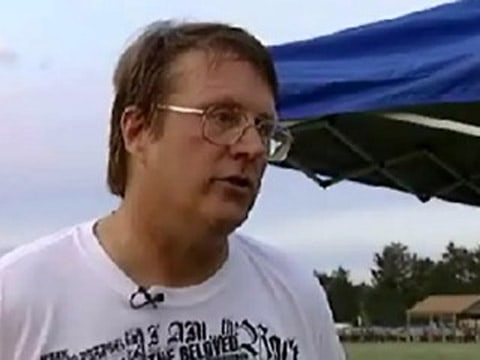 Twin Cities Pride is set to file an injunction in court following the Minneapolis Park and Recreation Board's decision to allow an anti-gay evangelist and his wife to distribute Bibles at the Pride Festival in Minneapolis' Loring Park, which Pride organizers paid $36,000 to secure for the event.
200,000 are expected to attend.
The Minnesota Independent reports:
Pride officials say they will seek a federal injunction Wednesday to prevent the Johnsons from handing out books and anti-gay literature within Loring Park during the festival. They gave the park board until Tuesday evening to reverse the decision to allow the Johnsons in the park.

The Johnsons had put pressure on the park board when they enlisted the help of the Alliance Defense Fund, a James Dobson–affiliated religious right legal organization based in Arizona. The group has defended numerous cases of anti-gay protesters crossing legal lines to denounce LGBT people, including a similar case in New York.

In a complaint to the Minneapolis Park Board dated April 5, ADF called Twin Cities Pride a "festival devoted to the toleration of homosexual conduct."

ADF "demands that… you will allow Mr. Johnson to enter into Loring Park and onto the perimeter sidewalks around the park to distribute literature, display signs and speak during the time of the festival," the letter stated.

The ADF says that if the park board doesn't allow Johnson into the park, it will sue. That prompted the park board to acquiesce. It wrote to ADF that it "will not prevent Brian Johnson from entering Loring Park or its perimeter sidewalks on June 26 and June 27, 2010 during the Minneapolis Pride Festival ('Festival') to distribute literature, display signs, and speak to members of the public."

An April 28 letter from the ADF to Johnson said, "You should be able to return to the 2010 festival and exercise your right to free expression." The letter added that ADF had closed the file and told Johnson, "Keep up the good work sharing the Gospel!"

Pride officials say not only did the Park Board cave, but they waited more than a month to tell them. In a letter to the board, festival organizers said that they were "shocked and dismayed" to learn about the decision relayed to them only weeks before the event.
Says Eileen Scallen, an attorney for the Pride Festival and a professor at William Mitchell College of Law: "The park board's decision is akin to allowing the Klu Klux Klan to openly convey their racist and anti-immigration views at the Cinco de Mayo festival."
Organizers are citing a Supreme Court ruling in which a Boston LGBT group was barred from participating in that city's St. Patrick's Day Parade.
Johnson was prohibited from the Pride fest last year, but showed up anyway, and was arrested.
A news report interviewing Johnson before he was arrested last year, AFTER THE JUMP…