Former eBay CEO Meg Whitman and former Hewlett-Packard CEO Carly Fiorina came out on top in their California gubernatorial and Senate primaries, respectively: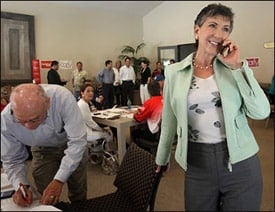 "Ms. Fiorina, a former chief executive of Hewlett-Packard, beat Tom Campbell, a former congressman, and Chuck DeVore, whose candidacy drew the backing of many Tea Party activists. She will face the incumbent senator, Barbara Boxer, a Democrat, in the fall.
Ms. Whitman, the former chief executive of eBay and a billionaire, had invested a small share of her personal fortune to prevail in the governor's race over Steve Poizner, the state insurance commissioner, who put $24 million of his own money into his primary campaign. She will challenge Jerry Brown, the state's Democratic attorney general, who was first elected governor of California three decades ago."
Karen Ocamb at LGBT POV has more on a few other California candidates — LGBT and pro-LGBT candidates — who appear to have triumphed:
"As of midnight, with more than half of the precincts reporting, Victoria Kolakowski, a transgender administrative law judge and attorney for over 20 years is leading in her race for Alameda County Superior Court Judge with 46.11% of the vote, compared to her nearest competitor with 31.52% of the vote…In Southern California, openly gay Ricardo Lara, a founding member of HONOR PAC, appears to have won his race in the 50th Assembly District in the East LA area. He becomes the second openly gay Latino in the state Legislature in California history…And in what openly gay Assembly Speaker John A. Perez described as a "huge win," pro-gay Democrat Matt Gatto beat National Organization for Marriage favorite Sunder Ramani who 'used H8 card with the Armenian community,' which backfired."
Here is the Victory Fund's report on openly gay candidates who won.
Senator Blanche Lincoln (D) fought off a left-wing challenge in Arkansas from Lt. Governor Bill Halter:
"Lincoln used a down-home pitch and the clout of the Democratic establishment to turn back Halter, the unions and an anti-incumbent tide that had already claimed two Senate colleagues. She defined herself as a sensible moderate in a polarized capital and leaned heavily on endorsements from President Obama and Bill Clinton.
'This is about us. This is about who we are as Arkansans,' she told supporters Tuesday night. 'Arkansans and this senator are going to be part of the solution.'"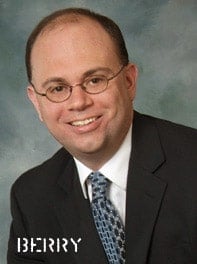 In Virginia, GOProud-endorsed gay Republican Matthew Berry (who opposes changing DADT and believes in state rights on marriage) lost his primary:
"Matthew Berry, who's gay and an attorney for the Federal Communications Commission, was seeking the Republican nomination to represent Virginia's 8th congressional district, which comprises Arlington and Alexandria.
But Berry lost to Patrick Murray, an Iraq war veteran, who took nearly 52 percent of the vote in a race where nearly 14,000 ballots were cast. Murray is set to face Democratic candidate Rep. Jim Moran this November in the general election.
After conceding the race, Berry told the Blade he's 'disappointed' he had insufficient votes to win the nomination, but said he felt he ran 'a very honorable and good campaign.'"
Murray is anti-gay, and was endorsed by the Log Cabin Republicans.
In Iowa, pro-marriage equality incumbent Rep. Ako Abdul-Samad fought off a wingnut challenger. One Iowa: "Despite mudslinging from his primary opponent, Rep. Ako Abdul-Samad emerged the clear winner in tonight's primary, capturing three quarters of his district's votes.
'We congratulate Rep. Ako Abdul-Samad on his decisive victory and welcome his continued leadership at the statehouse,' said One Iowa Executive Director Carolyn Jenison."
More on various races at Americablog…