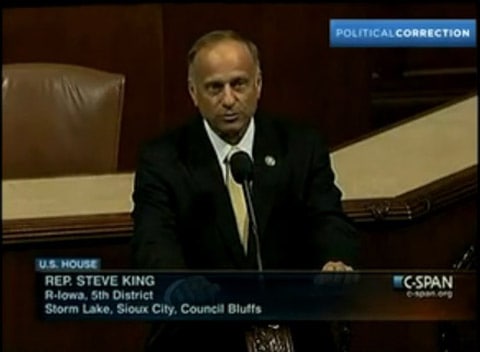 Anti-gay bigot and marriage equality foe Rep.Steve King (R-IA) appeared on the G. Gordon Liddy Show yesterday morning and showed he's not only an anti-gay bigot. Here's what he said about Obama and AG Eric Holder in a discussion of the Arizona immigration law:
"When you look at this administration, I'm offended by Eric Holder and the President also, their posture. It looks like Eric Holder said that white people in America are cowards when it comes to race. And I don't know what the basis of that is but I'm not a coward when it comes to that and I'm happy to talk about these things and I think we should. But the President has demonstrated that he has a default mechanism in him that breaks down the side of race — on the side that favors the black person."
And, last night on the House floor in a speech about the Arizona immigration law, King said profiling can be done by "what kind of shoes people wear, what kind of accident [sic] they have, um, the, the type of grooming they might have, there're, there're all kinds of indicators there and sometimes it's just a sixth sense and they can't put their finger on it." King added that racial profiling is okay because, well, as a white guy in a suit he once got a cab that way.
Watch, AFTER THE JUMP…