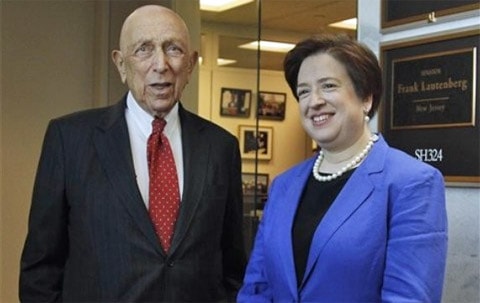 Senator Frank Lautenburg (above with Elena Kagan, in May), who is now the Senate's oldest member as a result of the death of Robert Byrd early this morning, told a gay rights group over the weekend that he is cancer-free:
"Lautenberg made the announcement Saturday at the Garden State Equality Legends Dinner in Maplewood. The 86-year-old Democrat told the gay rights group that his doctor told him Friday: 'It's gone, Frank.'
Lautenberg was hospitalized Feb. 15 after falling at his New Jersey home. He was treated for a bleeding ulcer, and it was announced Feb. 19 that B-cell lymphoma was found in his stomach.
Lautenberg began chemotherapy treatment and returned to the Senate on March 2."