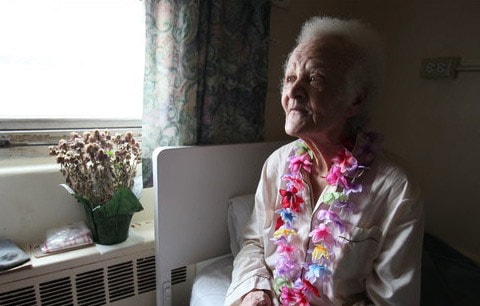 The NYT has a must-read, touching story about Storme DeLarverie, a 90-year-old Stonewall participant who spent yesterday's Gay Pride at a nursing home in Brooklyn, largely forgotten by the city that was putting on a Gay Pride celebration in the borough next door:
"The woman in Room 609, Storme DeLarverie, has dementia. She is but one anonymous elderly New Yorker in a city with thousands upon thousands of them. And many of those who marched down Fifth Avenue on Sunday would be hard pressed to realize that this little old lady — once the cross-dressing M.C. of a group of drag-queen performers, once a fiercely protective (and pistol-packing) bouncer in the city's lesbian bars — was one of the reasons they were marching."
I posted about DeLarverie back in January 2009 when she was facing eviction from her Chelsea Hotel apartment.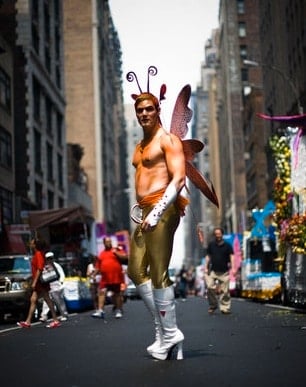 Here is the NYT photo gallery on Pride…
The NYDN reports on yesterday's parade: "Thousands cheered fierce fighters for the gay rights cause during the 41st annual celebration. This year's parade marshals included Constance McMillen, the Mississippi teen who battled the school district to attend her prom with her girlfriend; Lt. Dan Choi, the Iraq war veteran, active-duty Army reservist and 'Don't Ask, Don't Tell' critic, and Judy Shepard, the mother of Matthew Shepard, who was murdered in a hate crime at age 21 in October 1998.Mayor Bloomberg, City Council Speaker Christine Quinn, Attorney General Andrew Cuomo and Gov. Paterson were also on hand.Along the sidelines, Anthony Burns, 54, stood not far from the famed Stonewall Inn, the iconic birthplace of the gay rights movement. He has attended every Gay Pride Parade since they began. 'I smile – that's what my friends would want,' said the teacher, who has lost more than 50 friends to AIDS."
McMillen told journalist Rex Wockner that last week's LGBT White House reception had an effect on her: "The honor of being invited to join President Obama at the White House ceremony and the amazing support I've received has helped me come to terms with what happened over the prom."
Matt Rettenmund at Boy Culture has a typically comprehensive and engaging post up with videos.
World of Wonder has a big gallery up as well.
Here's a hot set of photos from Boss Tweed.
James Withers at 365gay.com has a nice selection of photos.
OurScene TV has dozens of Gay Pride videos up. 
Watch two of them, 'Liberty and Justice for All' about one couple's story before and after Prop 8, and the men of NYC Pride, AFTER THE JUMP…