A new decade-long study trashes conventional wisdom on same-sex marriage initiatives, and shows that the millions spent to convince voters in campaigns like California's Proposition 8 is essentially wasted because voters have made up their minds.
Read the study, AFTER THE JUMP…
The SF Chronicle reports: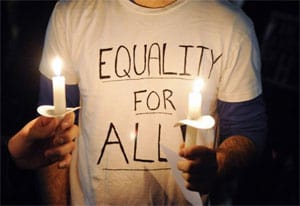 "The study by Patrick Egan of New York University looked at polling on gay marriage and domestic partner elections in 33 states since 1998 and found that no minds were changed despite millions in spending, hard-hitting advertising such as the much-quoted 'like it or not' TV spot with San Francisco Mayor Gavin Newsom, and emotional pleas from both sides.By election day, voters who opposed same-sex marriage before the campaign still opposed it, and those who backed it continued to back it.'The study indicates that when all of this (campaigning) is over, the result is a wash,' said Egan, who was joined by supporters of same-sex marriage at a news conference at San Francisco City Hall."
"Polls across the country consistently underestimate the level of opposition to same-sex marriage, Egan said, typically running seven percentage points lower than the actual numbers on election day."This tells us that before we go back to the ballot, we need to see solid majority support," said Geoff Kors, executive director of Equality California, which led the opposition to Prop. 8. "While we're close to that, we're not there yet."Egan's study shows that opening a campaign with 49 percent or 50 percent support would be courting disaster, Kors added, which could affect the tentative plan to put a same-sex-marriage legalization measure on the ballot again in two years."
Rad the study, AFTER THE JUMP…