Actually, it's a "surprise groundbreaking" announcement, according to CNN (not sure how it's a surprise anymore, but…):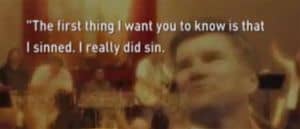 "Ted Haggard, the megachurch pastor and former National Association of Evangelicals chief whose career was undone by a gay prostitution and drugs scandal in 2006, is expected to talk about the next step in his career Wednesday.
With his family by his side at his Colorado Springs home, Haggard is expected to a make 'surprise groundbreaking' announcement, according to a news statement Tuesday."
9News Colorado Springs reports:
"The media alert sent out announcing Wednesday's news conference was distributed by Amy Prenner at the Prenner Group. The Los Angeles-based public relations firm boasts it has spent 15 years working in the entertainment industry and has an exclusive network of high-level media contacts, 'along with an eye for strategy and an awareness of entertainment journalists.'
Haggard told 9NEWS Tuesday afternoon he cannot talk about what the announcement will be.
'The people who make the big bucks make it for a reason,' Haggard said.
He referred all questions to Prenner. The news release does say Haggard 'will face the press and media with surprise groundbreaking announcement about his future.'"
So, do you all have any predictions?