More good stuff from Soledad O'Brien's In America series on gay parents — the story of David Mayer and Keith Kennard and their seven kids: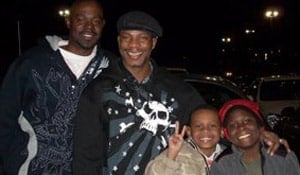 "Their story reflects the changing face of the American family. The Williams Institute, an independent research group and UCLA think tank, estimates 20 percent (about 155,000) of same-sex couples in the U.S. are raising children younger than 18.
'It's a chaotic day keeping up with kids and doctors appointments and just their daily lives,' says Keith, a nurse at an Atlanta hospital. 'We don't get a lot of rest.'
David, a manager for a security firm, and Keith say they've developed a regimented system for raising their children. Between getting everyone up and ready for school and shuffling around basketball practice and JROTC, their family's schedule is pretty full. By the end of the day, Keith says, '[We] get dinner on the table, homework checked and have them in bed by 10 o'clock, and the day starts all over again.'
For this couple, the joys of family life outweigh the challenges. 'We really couldn't ask for a better opportunity to really raise our kids together … you don't really hear that in our gay community, especially with black men.'"