The Supreme Court has ruled in the Washington State Referendum 71 case, saying that names of petition signers must be made public, the SeattlePI reports: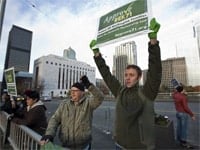 "The Supreme Court ruled Thursday that the names of people who signed petitions in an attempt to overturn a new gay rights law in Washington must be made public, a victory for state officials who said the case was a test of open government laws.
Justices ruled in a case called Doe V. Reed. They heard oral arguments in Washington, D.C., April 28.
The conservative group that tried to block release of the signatures wanted the nation's high court to uphold a lower court ruling that said signing petitions and referendum is constitutionally protected political speech – which by law is OK to engage in anonymously.
The group, Protect Marriage Washington, asked justices to shield the names of the 138,000 people who signed Referendum 71 petitions in hopes of overturning the 'everything but marriage' same-sex domestic partner law. In November Washington voters upheld the new statute. Gay rights groups have said they'll post the petition signers' names online, and some fear harassment or threats if their names are revealed."
The signers' names in the R-71 case, still may not ultimately be disclosed, however…
The Seattle Times: "But that doesn't mean copies of the Ref. 71 petitions will be immediately available, and a lower court may have to decide if those petitions can be disclosed at all.
That's because those who want to keep Ref. 71 petition signers' names secret can go back to a lower court to ask for an exemption from disclosure in their case only.
In an 8-1 decision, with Justice Clarence Thomas dissenting, the Supreme Court ruled that disclosing the identities of ballot-measure petition signers does not, generally, violate the First Amendment.
But the justices said their decision 'does not foreclose success' should Ref. 71 sponsors want to pursue the exemption in a lower court."
Read the opinion HERE (PDF).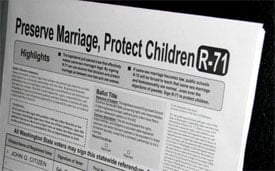 Last September, as the campaign was in full swing, U.S. District Judge Benjamin Settle temporarily barred state officials from releasing the identities of those who signed the referendum. In October, a federal appeals court reversed Settle's decision, prompting anti-gays to go to the U.S. Supreme Court. Justice Anthony Kennedy then issued a ruling blocking the appeals court decision. The full court later agreed to take on the case.
Referendum 71 was approved by voters on election day, expanding the rights of domestic partners in the state to "everything but marriage". Washington Governor Christine Gregoire and Secretary of State Sam Reed certified the election in early December and the law went into effect.