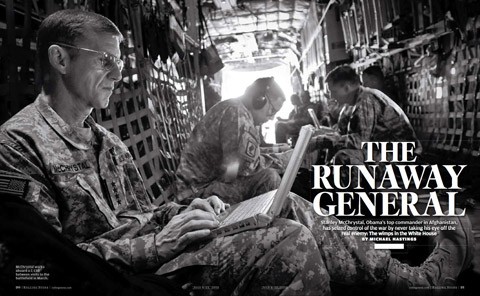 President Obama has called General Stanley McChrystal to a meeting in the White House Situation Room following publication of a Rolling Stone article in which Obama and Biden are characterized as "wimps" and other officials are mocked.
"NBC News said that McChrystal had personally called Defense Secretary Robert Gates, Chairman of the Joint Chiefs of Staff Adm. Mike Mullen and Biden to apologize.
Capt. John Kirby, Mullen's spokesman said, said that the chairman 'expressed his deep disappointment in the piece and the comments' in it during their 10-minute conversation.
In Kabul on Tuesday, McChrystal issued a statement saying: 'I extend my sincerest apology for this profile. It was a mistake reflecting poor judgment and should never have happened.  Throughout my career, I have lived by the principles of personal honor and professional integrity. What is reflected in this article falls far short of that standard,' he added."
"The article, titled 'The Runaway General,' appears in the magazine later this week. It contains a number of jabs by McChrystal and his staff aimed not only at the President but at Vice President Biden, special envoy Richard Holbrooke, Karl Eikenberry, the ambassador to Afghanistan, and others.
McChrystal described his first meeting with Obama as disappointing and said that Obama was unprepared for the meeting.
National Security Advisor Jim Jones is described by a McChrystal aide as a 'clown' stuck in 1985.
Others aides joked about Biden's last name as sounding like 'Bite me' since Biden opposed the surge."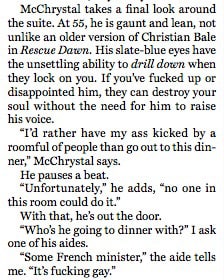 And here's a passage, useful in simply illuminating the fact that the adolescent usage of "that's so gay" has filtered up to the U.S. military:
McChrystal takes a final look around the suite. At 55, he is gaunt and lean, not unlike an older version of Christian Bale in Rescue Dawn. His slate-blue eyes have the unsettling ability to drill down when they lock on you. If you've fucked up or disappointed him, they can destroy your soul without the need for him to raise his voice.

"I'd rather have my ass kicked by a roomful of people than go out to this dinner," McChrystal says.

He pauses a beat.

"Unfortunately," he adds, "no one in this room could do it."

With that, he's out the door.

"Who's he going to dinner with?" I ask one of his aides.

"Some French minister," the aide tells me. "It's fucking gay."
The consultant who brokered the McChrystal interview with RS has resigned, Marc Ambinder reports:
"Duncan Boothby, the civilian Pentagon consultant who brokered Gen. Stanley McChrystal's interview with Rolling Stone, has resigned, according to two officials.
Boothby, a one-time stage actor, has served as an image consultant to several of the Pentagon's top generals, including Gen. David Petraeus, now of Central Command, when Petraeus was attempting to sell the Iraq "surge" to the American people."
Read the whole article here.