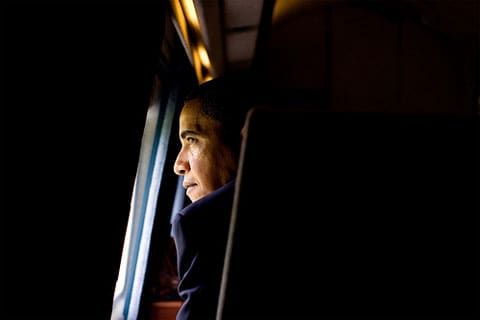 As it has typically done shortly before a meeting of LGBT folks and the President (there's a Pride month reception this afternoon at the White House), the Obama administration yesterday announced one of its incremental steps toward granting us full equality.
This one comes in the form of family and medical leave for sick or newborn children of same-sex partners.
"The policy will be set forth in a ruling to be issued Wednesday by the Labor Department's wage and hour division, the officials said.
Under a 1993 law, people who work for a company with 50 or more employees are generally entitled to 12 weeks of unpaid leave to care for a newborn or for a spouse, son or daughter with "a serious health condition."
The new ruling indicates that an employee in a same-sex relationship can qualify for leave to care for the child of his or her partner, even if the worker has not legally adopted the child.
The ruling, in a formal opinion letter, tackles a question not explicitly addressed in the 1993 law. It is one of many actions taken by the Obama administration to respond to the concerns of gay men and lesbians within the constraints of the Defense of Marriage Act, which defines marriage as a union between a man and a woman as husband and wife."
As for this year's reception, it won't include leaders of national gay groups like HRC, etc.
Writes Chris Johnson at The Washington Blade:
"People speaking anonymously to the Blade have said invitations generally were restricted to the heads of state equality groups, members of the LGBT community with compelling stories and a contingent of LGBT youth.
The upcoming reception recalls a similar White House event last year. That reception came in the wake of the publication of a controversial legal brief from the Justice Department defending the Defense of Marriage Act, a move that incurred the rancor of many LGBT activists.
But this year's reception follows no such controversy and seems to be targeting different members of the LGBT community. The leaders of national LGBT groups — including Human Rights Campaign President Joe Solmonese — weren't invited to the event next week, according to one source.
Leaders of state equality groups who were invited to the White House Pride reception and said they want to hear Obama speak about issues affecting LGBT people in the places they represent."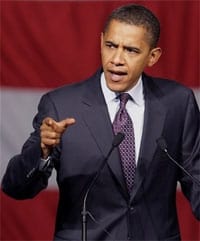 Expect Obama "to tick through some of the accomplishments at a meeting with grass-roots gay activists at the White House" says a new AP article highlighting the disappointment of the LGBT community over the accomplishments of our so-called "fierce advocate".
There's reason for the frustration.

Obama's campaign pledged to repeal "don't ask, don't tell," yet that goal remains years away. His Justice Department invoked incest in a legal brief defending the traditional definition of marriage, prompting some gay donors last year to boycott the Democratic National Committee. And just last week, a committee at his Health and Human Services Department recommended the nation retain its policy barring gay men from donating blood.

"Two wars, a financial crisis, now an oil spill, plus a fundamental unwillingness to act boldly on gay rights, have rendered Obama agenda-less on this issue," said Richard Socarides, who advised Clinton on gay policies.

Obama's allies say the small-bore changes are the best activists can hope despite Democrats controlling the White House, the Senate and the House.

"The reason why these policy changes are important is because we do not have ironclad LGBT (lesbian, gay, bisexual and transgender) majorities in either house of Congress," said Fred Sainz, a vice president at the Human Rights Campaign, Washington's largest gay rights organization.

"People wrongly assume that having Democratic majorities in Congress means that your legislative goals will be met. That's not the case," Sainz said.
I'll be posting Obama's remarks later once they're up on video.