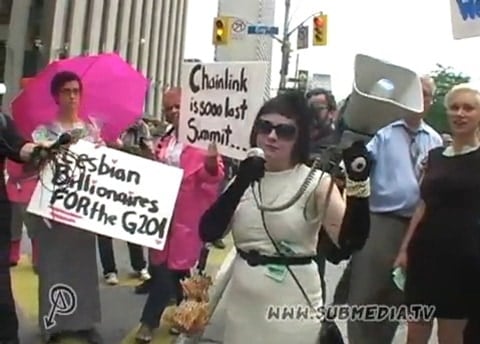 More than 100 LGBTQ protesters hit the streets of Toronto yesterday ahead of the G20 summit there.
"'We're queer, we're fabulous, we're against the G20,' marchers chanted as two dozen police on mountain bikes watched, breaking their strict formation at least once to tackle a rowdy protester to the ground.One protester wearing tights, stilettos and a pink-faced, papier-mache head of Canadian Prime Minister Stephen Harper clapped along as demonstrators danced to the beat of drums.Protesters said they were trying to draw attention to the rights of all minority populations marginalized because of their gender, sexuality or socioeconomic status.Canada is spending about C$1 billion ($980 million) on security for two back-to-back international summits this week.The Group of Eight will meet in the town of Huntsville, Ontario, 215 km (135 miles) north of Toronto on June 25-26. The larger G20 gathers June 26-27 in Toronto, where the city center is awash with police and security fencing."
Protesters were also angry about the corporatization of the Pride parade and the censorship of pro-Palestinian queers, according to a report from Submedia TV.
Watch it, AFTER THE JUMP…