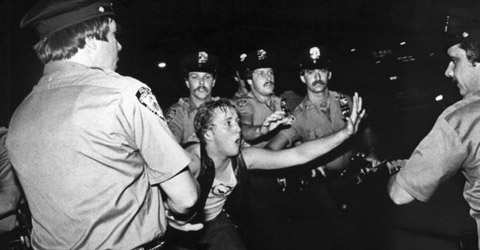 I had the chance to see 'Stonewall Uprising' and would recommend it to all. It opened on Wednesday in Manhattan, and opens in several more markets including L.A., Boston, and Portland this weekend.
The film features interviews with several Stonewall participants, including an officer who was there the night the bar was raided. It combines real footage with reenactments, though often it's hard to tell what's archival and what's not. The effect, for me at least, was to get a much stronger visual and tangible sense of what it must have been like to have experienced that night.
The NYT writes: "It is a sad indication of the marginalization of homosexuality in the late 1960s that media coverage of the Stonewall riots was mostly after the fact. And even then it was cursory and often condescending. Because so little photographic documentation exists of the unrest, the film relies mostly on eyewitnesses, including Seymour Pine, the now-retired police officer who led the initial raid of six officers and who describes it as 'a real war.'The details of the raid are reconstructed by several who were present, including Howard Smith and Lucian Truscott IV, journalists for The Village Voice whose offices were nearby. The film focuses on the first night of the unrest."
Watch the trailer, AFTER THE JUMP…