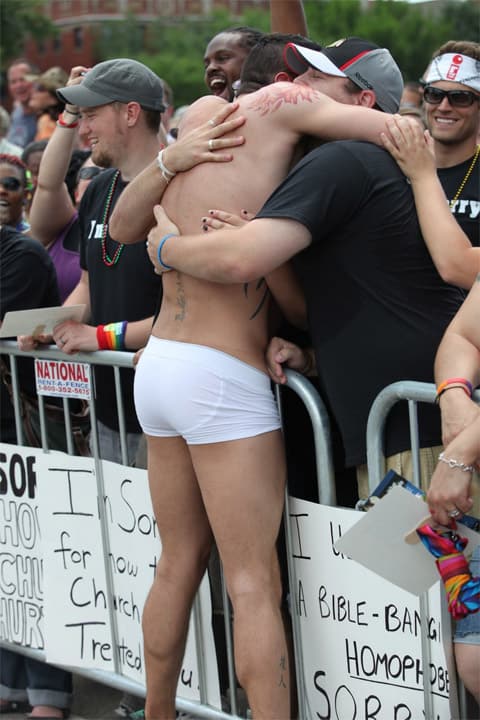 A group from The Marin Foundation, a Christian group whose goal is building bridges between the religious and LGBT communities, set up in an area adjacent to Chicago's Gay Pride parade over the weekend, writes Nathan, a Director of Pastoral Care at the foundation, in a blog post:
"I spent the day at Chicago's Pride Parade. Some friends and I, with The Marin Foundation, wore shirts with 'I'm Sorry' written on it. We had signs that said, 'I'm sorry that Christians judge you,' 'I'm sorry the way churches have treated you,' 'I used to be a bible-banging homophobe, sorry.' We wanted to be an alternative Christian voice from the protestors that were there speaking hate into megaphones."
Nathan discusses the various reactions to the group as people read their signs and "got it", but was most touched by one parade participant:
He stopped dancing. He looked at all of us standing there. A look of utter seriousness came across his face. And as the float passed us he jumped off of it and ran towards us. In all his sweaty beautiful abs of steal, he hugged me and whispered, "thank you."

Before I had even let go, another guy ran up to me, kissed me on the cheek, and gave me the biggest bear hug ever. I almost had the wind knocked out of me; it was one of those hugs.

This is why I do what I do. This is why I will continue to do what I do. Reconciliation was personified.

I think a lot of people would stop at the whole "man in his underwear dancing" part. That seems to be the most controversial. It's what makes the evening news. It's the stereotype most people have in their minds about Pride.

Sadly, most Christians want to run from such a sight rather than engage it. Most Christian won't even learn if that person dancing in his underwear has a name. Well, he does. His name is Tristan.

However, I think Jesus would have hugged him too. It's exactly what I read throughout scripture: Jesus hanging out with people that religious people would flee from. Correlation between then and now? I think so.
Read Nathan's whole blog post here, and an update.
Like Dan Savage, who originally pointed me to this story, I don't know too much about The Marin Foundation or its underlying goals and philosophies, so I'm hesitant to endorse them as an organization. If anybody knows whether their actions are sincere or mask some sort of goal that hasn't been disclosed, feel free to let us know in the comments.
UPDATE: And it appears I was right to be skeptical. Check out this article written by Michelangelo Signorile for The Advocate in 2006, which exposes Andrew Marin, the group's founder, and reveals how he suckered national LGBT groups with his message.
"I invited Marin to be on my program on Sirius Satellite Radio, where he would not answer a simple question I asked four times: 'Do you affirm homosexuality as normal, natural, and healthy?' Marin claimed that as a 'bridge' he had to be circumspect and also denied ever saying the foundation would make him rich. He also said that he had the full support of HRC, GLAA, and GMHC, which he had linked to and listed on his Web site as 'sponsors and donors,' even though he admitted they had not given him any money."
Watch the group's video, AFTER THE JUMP…