Yesterday U.S. District Judge John Sedwick swooped in and issued an injunction against Arizona House Bill 2013, ensuring, at least for the time being, family health insurance for gay and lesbian employees of the state. According to The Arizona Republic, "The bill, which was signed into law by Gov. Jan Brewer in September, amended the definition of 'dependent' under state law to mean either a child or 'a spouse under the laws of this state.' That change prevented the partners of gay and lesbians, who are legally unable to marry, from receiving benefits."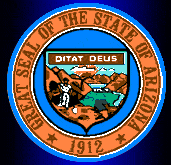 Said Judge Sedwick in in his ruling: 
"'Because employees involved in same-sex partnerships do not have the same right to marry as their heterosexual counterparts, Section O has the effect of completely barring lesbians and gays from receiving family benefits,' Sedwick wrote. 'Consequently, the spousal limitation in Section O burdens state employees with same-sex domestic partners more than state employees with opposite-sex domestic partners.'"
The state is considering an appeal.
So how much does Arizona spend on domestic-partner benefits? A paltry $3 million each year as opposed to the $625 million spent on benefits for all employees.