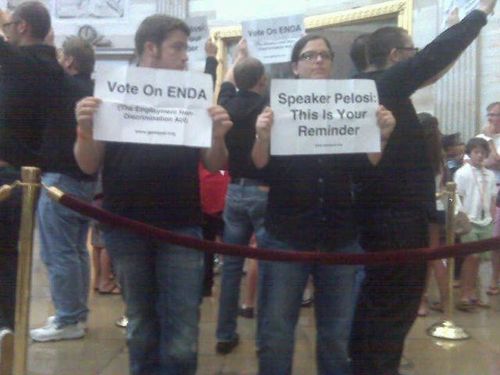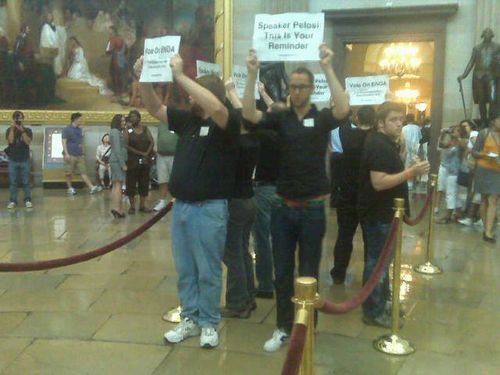 Activists from GetEQUAL staged a protest in the Capitol rotunda today over inaction on the Employment Non-Discrimination Act (ENDA).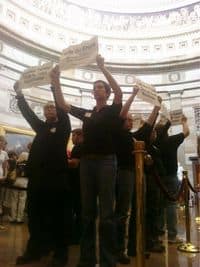 Kerry Eleveld reports:
"The group of about 20 LGBT activists entered the Capitol as part of a routine tour through the Capitol. Upon reaching the rotunda, they sat down and pulled out signs reading, 'Pass ENDA Now!' and 'This Is Your Reminder.' Meanwhile, they began their signature chant, 'I am … somebody … I deserve … full equality.' Eight to nine people were risking arrest in the action, according to Cronk, with the other half present to provide support including a couple legal observers. [Nancy] Pelosi told attendees of last weekend's Netroots Nation conference for progressive bloggers that they should hold her accountable, though she stopped short of promising a vote on ENDA…Cronk said the group chose the rotunda because it symbolizes 'America's commitment to justice, equality, and freedom.' At the beginning of the tour, she noted they had been shown a film with narration proclaiming, 'This is the core – the center – of our experiment with political freedom.'"
According to posts on Twitter, several activists were handcuffed and taken away in a police van.
More photos, AFTER THE JUMP…
(images via @chrisgeidner and GetEqual)
In related news, yesterday San Francisco Pride at Work, One Struggle, One Fight, GetEqual, Harvey Milk Democratic Club, Transgender Law Center, National Center for Lesbian Rights, El / La, and National Pride at Work released an open letter to Speaker Pelosi on ENDA. Read it here.