I guess gay people can't even enjoy fast food without being attacked these days.
The NYPD is investigating a crime against a gay couple that occurred during the early morning hours at a Staten Island White Castle this past Wednesday. Luis Vieira and Richard Vieira were harassed by a group of teenagers who called them gay slurs.
Silive picks it up from there: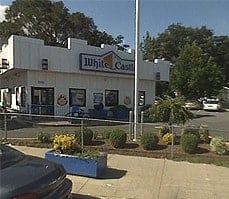 "As they sat down to eat, three members of the group came in, Vieira said. As he looked at them, one approached the table and said, 'What the [expletive] are you looking at, fag?'"
"He responded, 'What the [expletive] are you looking at?' and after the two stared at each other for few seconds, the youth walked off. A few moments later, Vieira said, he felt a "bop in the back of the head." He and his partner ran out, but retreated when they saw the youths swarming the parking lot."
"Vieira was asking a restaurant employee to call 911 when he realized Richard Vieira was no longer at his side. He found his partner outside, semiconscious and bleeding — he had been jumped and sucker-punched in the back of the head. 'I blotted him, brought him back to the White Castle,' Luis Vieira said. 'I had blood all over me. My partner had blood all over him.' A responding ambulance took Richard Vieira to Richmond University Medical Center, West Brighton, where he required stitches to close his wounds. He was later released. A police unit also responded, and after Luis Vieira made calls to several law enforcement agencies, a detective with the Hate Crimes Task Force reached out yesterday to the couple."
Luis Vieira, who was wearing a rainbow flag armband the night of the attack, insists that he and his partner were indeed targeted because they are gay.
Photo courtesy of Gothamist.