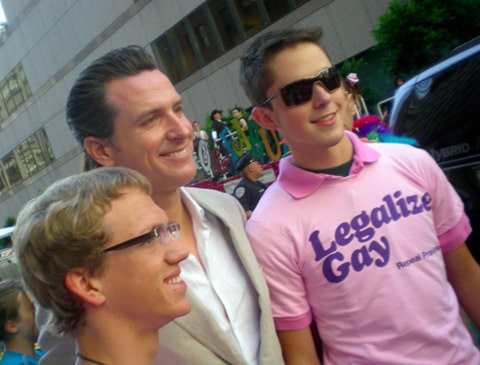 Gay Georgia teen Derrick Martin (above, right), who attracted national attention after he attended his Cochran, Georgia high school prom with his boyfriend and was subsequently kicked out of his home by his parents, is launching a new organization and website today — Project LifeVest — meant to assist LGBTQ teens who are in situations similar to his, facing abandonment, abuse, or discrimination.
According to Arturo Beeche with Project LifeVest, "That help may range from making sure a closeted youngster has somebody to talk with confidentially to get through a lonely night or an intimidating social situation, to re-locating someone who can't stay where they've been living any longer because they face physical or psychological abuse, to making sure that kids have access to information about HIV or drug abuse prevention."
Says Martin: "Thanks to the kindness of strangers I survived abandonment for the 'crime' of being gay and young. If I have anything to say about it, no one else will ever have to go through what I did. Project LifeVest is my 'give back' for the critical help caring people around the country extended to me when I needed it."
Visit Project LifeVest's site HERE.
Several organizations have aligned with Martin in the project — Sean's Last Wish, The Trevor Project, and GLUAD.