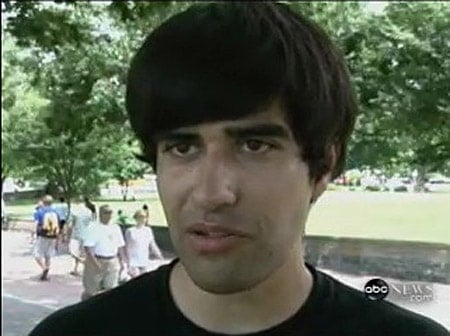 Back in May I posted about Mohammad Abdollahi, a 24-year-old Iranian who was arrested as apart of a sit-in immigration protest at Senator John McCain's office. Abdollahi came to the U.S. when he was 3-years-old. He says he learned of his undocumented status in high school Abdollahi is also gay.
Abdollahi's deportation proceedings are set to begin this month, partly as a result of the protest.
"More than 13,000 immigrants in situations such as Abdollahi's requested so-called "withholding removal" status in U.S. immigration courts last year, according to the Justice Department's Executive Office for Immigration Review. But only 14 percent of the requests were granted, reflecting a much more stringent standard than that applied to asylum applications filed by people not facing deportation.'He's looking at having to prove greater than 50 percent chance of persecution, a clear probability of persecution,' said D.C.-based immigration attorney Kimberley Schaefer, who handles asylum cases. The risk of physical harm must also be demonstrably linked with either his race, religion, nationality, membership in a social group or political opinion, according to U.S. Citizenship and Immigration Services guidelines."
The situation for gays in Iran is still very dire. If not targeted by the government they are often the victims of honor killings by families.
Watch Abdollahi about being an undocumented youth in the U.S., AFTER THE JUMP…