A Houston Community College student has been charged with "aggravated robbery" for an attack on fellow transgender student Lance Reyna, the Houston Chronicle reports.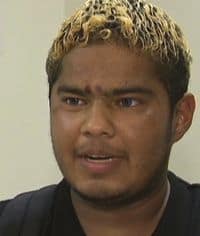 Steve posted about the attack over the weekend.
Reyna (pictured), who suffered a concussion, was called in to identify his attacker on Wednesday: 
"Reyna said he was washing his hands when a man emerged from a bathroom stall, placed a knife to his throat then knocked him to the floor and beat and kicked him. His wallet, containing bank cards and personal identification, was stolen.
'I'm still trying to process this,' Reyna said hours after Calhoun was arrested on campus. 'I feel a slight sense of relief, but I still believe I was targeted. … I won't feel justice was done until he is convicted of a hate crime.'
Harris County District Attorney's spokeswoman Donna Hawkins said Calhoun likely will not be prosecuted for a hate crime because proving hate would pose an added challenge for prosecutors and, even if a conviction were obtained, punishment would not be increased."
Terrance Calhoun, 22, faces a maximum sentence of life in prison for the first degree felony.