In a talk at Sunday's Alice B. Toklas LGBT Democratic Club Pride breakfast in San Francisco, Congresswoman Jackie Speier (D-CA) said that passage of the Employment Non-Discrimination Act, which was on the table for this legislative session, may take five years to pass.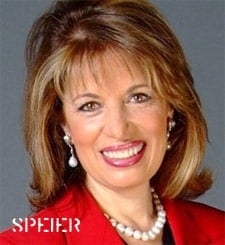 The Bay Area Reporter:
Asked later in a brief interview if that meant the House would not vote on ENDA this year, Speier told the B.A.R. , "The rest of the year is in question."

"There's no question 'Don't Ask, Don't Tell' will be history this year," she said. "ENDA, we will have that law for sure within the next five years."

Speier, a Democrat whose district includes parts of San Mateo and San Francisco counties, said she was acknowledging reality.

"I'm being realistic," she said.
Speier added that Nancy Pelosi was doing all she could to ensure a majority for next year.
(via americablog)